Ointment Manufacturing Plant
The Ointment Manufacturing Plant is an ideal tool for the pharmaceutical & cosmetic industries for the production of Ointment, Cream, Lotions, Tooth Paste & other emulsions & homogenizations.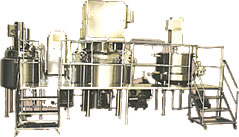 OPERATION
It is specially designed to take care of two critical factors which directly affects the quality of the Ointment / Creams.
Minimum man handling of Ointment.
Negligible vacuum drop during mixing & blending.
Needless to say, it also provides the benefits of the effective manpower utilization. .
GENERAL FEATURES
Structure made from SS304
Variable load capacity available
IBC Lock System ( can adjust for various capacity IBC)
Sensor checking lock system before machine start.
Safety Bar to cover moving part.
Rotation of tank in vertical.
Variable Speed of rotation by VFD.
PLC and Color Touch Screen Control. (Optional feature)
Timer to adjust batch time.
PLC Control color touch screen include printer and interface to network can monitor and save operation on PC computer. (Optional feature)
Maximum care has been taken to ensure safe operation of the unit.