Bin Blender
CAPACITY AVAILABLE FROM 150 LITERS TO 1500 LITERS.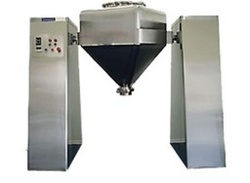 OPERATION
The Bin Blender is an efficient and versatile machine for mixing dry powder and granules homogeneously. The unique baffle fitted on the lid ensures uniform mixing. This blender is ideally used for hormones products in pharmaceutical industry, Food, Chemical and Cosmetic products etc.
GENERAL FEATURES
Structure made from SS304
Variable load capacity available
IBC Lock System ( can adjust for various capacity IBC)
Sensor checking lock system before machine start.
Safety Bar to cover moving part.
Rotation of tank in vertical.
Variable Speed of rotation by VFD.
PLC and Color Touch Screen Control. (Optional feature)
Timer to adjust batch time.
PLC Control color touch screen include printer and interface to network can monitor and save operation on PC computer. (Optional feature)
Maximum care has been taken to ensure safe operation of the unit.